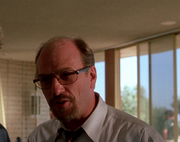 LAPD Sergeant Tanner was the ranking head of the police department in Los Angeles and was portrayed in the 2001 original The Fast and the Furious and it's sequel 2 Fast 2 Furious by actor Ted Levine.
Character Summary
Edit
Tanner, along with FBI Special Agent Bilkins, ended up supervising undercover police officer Brian O'Connor's operation with infiltrating Dominic Toretto's gang of car thieves and street racers. Unlike Bilkins, Tanner has complete faith in Brian's ability to handle the sticky situations inherent in the sting operation. Little did he know that Brian would end up making a deal to let Dominic go after dealing with Johnny Tran's violent gang.
Ad blocker interference detected!
Wikia is a free-to-use site that makes money from advertising. We have a modified experience for viewers using ad blockers

Wikia is not accessible if you've made further modifications. Remove the custom ad blocker rule(s) and the page will load as expected.