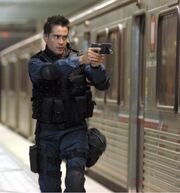 Police Officer III Jim Street is one a United States Navy officer-turned-LAPD S.W.A.T. team member. He is portrayed in the 2003 movie S.W.A.T. by actor Colin Farrell.
Character Summary
Edit
Street is a member of the SWAT team who gets depromoted to the "Gun Cage" for 6 months after his ex-partner Brian Gamble accidentaly shoots a hostage while the two of them are defusing a bank heist. He is greeted by Hondo when he is offered the chance to get back on SWAT. He joins five other team members, Sanchez, Deke, McCabe and Boxer, they embark on a mission to take down Alex Montel who has stunned the mark of his team mate McCabe and ex-partner Gamble for the reward of $100,000,000.
Ad blocker interference detected!
Wikia is a free-to-use site that makes money from advertising. We have a modified experience for viewers using ad blockers

Wikia is not accessible if you've made further modifications. Remove the custom ad blocker rule(s) and the page will load as expected.