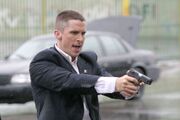 Jim Davis is the primary protagonist, and an anti-hero to an extent, portrayed by Christian Bale in David Ayer's 2006 crime drama Harsh Times.
Character Summary
Edit
Davis is an PTSD-ridden, ex-Army Ranger who attempts and fails to get his life back together post-dischargement. Davis' main goal is to smuggle his new girlfriend, Marta, legally into the United States after he hopefully gets reemployed. After failing to get a job with the LAPD, Jim manages to impress an undercover federal agent but days before his being assigned to a covert operation in Colombia, he decides to travel to Mexico with his pal Mike Alonzo and do a quick drug exchange for some quick cash. After virtually having another post-traumatic breakdown, Davis is lethally injured in a gunfight after dispatching some former gang members he had angered earlier. Jim commands Mike to put him out of his misery which Mike does after brief reluctance.
Superior(s)
Edit
N/A
Partner(s)
Edit
Body Count
Edit
Ad blocker interference detected!
Wikia is a free-to-use site that makes money from advertising. We have a modified experience for viewers using ad blockers

Wikia is not accessible if you've made further modifications. Remove the custom ad blocker rule(s) and the page will load as expected.