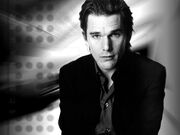 Ethan Hawke (born November 6, 1970) is an actor and author who's appeared in films such as Dead Poet's Society, Mystery Date, Alive, Gattaca, Snow Falling on Cedars, Training Day, Lord of War, Sinister, The Purge and various documentary works. He has worked numerous times with filmmakers and actors such as Richard Linklater, Antoine Fuqua, the Spierig brothers, Robert Sean Leonard, Frank Whaley, Andrew Niccol and Uma Thurman (the latter who he also once wed).
Ad blocker interference detected!
Wikia is a free-to-use site that makes money from advertising. We have a modified experience for viewers using ad blockers

Wikia is not accessible if you've made further modifications. Remove the custom ad blocker rule(s) and the page will load as expected.