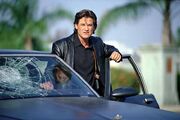 Police Detective Sergeant Eldon Perry Jr. is the primary antagonist-turned-antihero of the 2002 David Ayer action-crime thriller Dark Blue. He is portrayed by actor Kurt Russell in a role similar to Denzel Washington's Alonzo Harris in 2001's Training Day.
Character Summary
Edit
During circa 1991 to 1992 in South Central, Los Angeles, Perry is part of a elite S.W.A.T. team unit working under the LAPD's Special Investigations Squad which operates by it's own authority. After framing some men for crimes unrelated to the cases he operates on, Perry decides to come clean for his crimes following the death of his partner, Bobby Keough in the line of duty who's death was the cause of his fudged evidence.
After having issues with his personal marriage and failing to connect with his young son, Perry decides to expose his wrongdoings as well as what dirt he dug up on his corrupt boss Jack Van Meter who was in way deeper than Perry himself ever was.
Ad blocker interference detected!
Wikia is a free-to-use site that makes money from advertising. We have a modified experience for viewers using ad blockers

Wikia is not accessible if you've made further modifications. Remove the custom ad blocker rule(s) and the page will load as expected.